Beginners Guide: Buying Life Insurance in Canada
Welcome to our guide to all that you need to know about life insurance in Canada
30 Minute read
Originally published: November 30, 2022
Beginners Guide: Buying Life Insurance in Canada
Welcome to our guide to all that you need to know about life insurance in Canada
30 Minute read
Originally published: November 30, 2022
Welcome to our Beginners Guide to buying life insurance in Canada! This guide will teach you all you need to know about buying life insurance in Canada. We have tons of information for you to understand what buying life insurance entails! Remember that we can provide you insurance no matter what, this includes if you are a smoker, what your medical condition is, your credit, if you have a criminal record or anything else. There are life insurance policies out there for every lifestyle and for everyone in Canada! We will be covering topics such as the types of life insurance, if life insurance is worth it, the costs of life insurance, if you can get life insurance with medical conditions, and much more. Take a look at our blog and get educated on all you need to know about buying life insurance in Canada. 
What is life insurance? 
Starting up our Beginners Guide to Buying Life Insurance in Canada let's find out what life insurance is. To be exact, life insurance is a contract formed by a client (policy owner) and an insurance company which offers the client's beneficiaries a lump-sum payout of a predetermined amount when the insured passes away. The policy owner will have to make monthly or yearly payments to the life insurance company for the term of the life insurance contract, or for life in order to keep the contract valid. 
Now let's simplify that, basically if you apply for life insurance with a life insurance company, they will create a contract with you that offers your beneficiaries a pay out when you die. In order to keep that contract valid and to get that pay out when you die, you will have to pay a determined amount every month or year to the life insurance company. 
What are my life insurance options? 
Three forms of life insurance are available when searching for coverage: fully underwritten, simplified issue, and guaranteed issue. Each has advantages and disadvantages and is created for various uses and requirements. While guaranteed issues are normally only available in a permanent life insurance form, fully underwritten and simplified issues are available in both  term life insurance and permanent life insurance. See the table below for a great comparison between the three main types of life insurance policies.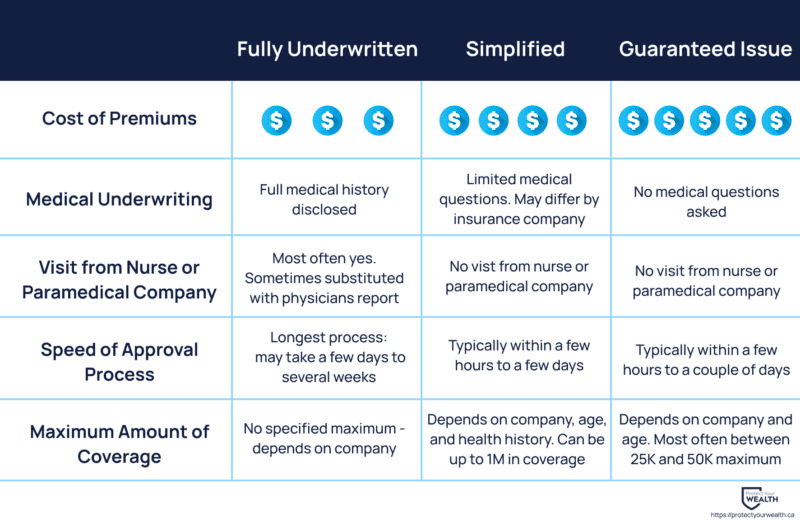 Fully underwritten life insurance:

Your complete medical history is disclosed

It is likely a nurse or other medical professional will visit you; or an attending physician's statement (APS) will be required

Has the longest approval process taking several days or weeks to get the policy approved 

There is no limit on the coverage amount

Simplified issue life insurance:

No medical exam, only medical-related inquiries, note that each company differ in the questions they will ask you  

No nurse or doctor visit

Normal approval process times ranging from a few hours to a few days

The level of coverage varies by company, age, and medical history. Usually companies can provide up to $1M in coverage

No-medical/Guaranteed Issue life insurance:

No medical exam or medical questions asked 

No nurse or doctor visit

Very quick approval process, normally takes a few hours to a few days

Offers the least amount of coverage, limited by your age and each company, maximum coverage usually ranges between $25,000 and $50,000.
What types of life insurance are there?
The types of life insurance that are available to all Canadians are as follows:
It is definitely worth it to take a look at all the different types of life insurance because they each all have unique features and advantages. Continuing on with our Beginners Guide to Buying Life Insurance in Canada – first, let's learn about what term life insurance is and then we can take a look at permanent life insurance, ending with simplified life insurance policies.
Term life insurance
Term life insurance covers you for a predetermined period of time. Term life insurance policies have terms ranging from 5 to 40 years. The beneficiaries of these policies receive a payout in the event of your death, and you can pay for the policy monthly or yearly. When these policies are about to expire, you can either choose another life insurance policy for yourself or renew them at an updated  price. It should be mentioned that term life insurance is the most commonly used type of life insurance in Canada, and it is also the least expensive type. And, the highest amount of coverage is also found through a term life insurance policy, but keep in mind that if you want a high coverage amount and a cheap premium then you will be looking at a fully underwritten policy, so you'll need to provide a medical exam, family health history, an attending physician's statement (APS), and more.
Benefits of term life insurance
Financial security for you and your family in the event of a death or disability.

Significantly more affordable compared to whole life insurance policies.

Adaptable policy terms to best suit your needs.

Once you've locked in your policy, your rates will never change.

Guaranteed death benefit.

Peace of mind knowing your family is protected.
Permanent life insurance
Permanent life insurance does not expire, thus it will last until your death, which is the main difference between permanent life and term life insurance.The two types of permanent life insurance are whole life insurance and universal life insurance. This can be offered as a fully underwritten policy where you must complete a medical exam and receive an attending physician's statement (APS), or it can be offered as a guaranteed life insurance policy where you don't need an APS. Although the coverage amounts are just as high as term life insurance, permanent life insurance does have higher premiums, meaning you will pay more for your policy. A portion of your premium payment is typically allotted to cash accumulation in many universal or whole life permanent life insurance policies, which grows tax-deferred. And although loans against the cash value are an option, the interest on them frequently adds up and reduces the final death benefit. Permanent life insurance has several advantages, much like other types of insurance. 
Benefits of permanent life insurance
Policy stays for life with level premiums

Some policies offer limited pay periods for premiums (you only have to pay for a set period of time, not indefinitely)

You can grow an investment with the policy
Simplified life insurance
While simplified life insurance may not have the same stringent requirements as fully underwritten life insurance, it does offer large coverage amounts and reasonable monthly rates. Simplified issue insurance plans don't require a medical exam, but you still need to provide certain medical information on the application. Despite the fact that they are more expensive than fully underwritten life insurance policies, rates are still reasonable. Different questions might be addressed depending on the insurer and whether the coverage is deferred. Simplified issue life insurance is typically provided on a term basis.
Benefits of simplified life insurance 
Comparable coverage amounts to traditional life insurance policies

Typically can accept most people who are declined from traditional life insurance

More affordable than no medical life insurance

No medical exam required
No medical life insurance/guaranteed issue life insurance
This kind of life insurance is perfect for those who are unable to receive fully underwritten coverage due to medical conditions, mental illnesses, criminal history, hazardous occupations, or a number of other situations. An attending physician's statement (APS) or a medical examination are not necessary as part of the application process for no medical life insurance.  These are for those who struggle to get accepted by life insurance companies and might get denied by life insurance companies or just do not like the process of fully underwritten life insurance. Consequently, there are no medical life insurance policies that make it possible for persons with these difficult circumstances to obtain coverage. This coverage tends to be more costly and has a smaller coverage amount than a fully underwritten policy like term life insurance or permanent life insurance, but it provides peace of mind to those who would not otherwise qualify for any life insurance coverage.
Benefits of No medical life insurance/guaranteed issue life insurance
No medical examination is required

Reduced approval time

Increased probability of approval

Coverage for hazardous activities and occupations

Coverage for international travel is provided

Ignores previous substance addiction and/or criminal background

Application process is less time-consuming
Who can buy life insurance? 
Life insurance in Canada can be purchased by practically anyone who wants to have life insurance to protect their loved ones or assets. There is life insurance available for people who come from all walks of life, just take a look at this list of people who can get life insurance in Canada but keep in mind that many more people can also get life insurance even those with unique circumstances and lifestyles: 
Basically this is just the tip of the iceberg, and our life insurance brokers have found life insurance policies for people who have unique, individual situations! There are so many different life insurance companies and life insurance policies that are out there that can be perfect for you if you have a specific circumstance or if you are looking for something that is uniquely right for you. This is why we always recommend working with a life insurance broker because of the fact that you can take a look at the several different policies that are available for you all at once. Feel free to contact us for a free quote and consultation and get started at looking at the life insurance options out there for you! 
Is life insurance worth it in Canada?
Continuing our Beginners Guide to Buying Life Insurance in Canada. Deciding whether life insurance is worth it for you could be very difficult. To be perfectly honest, it is not the best option for everyone, while it is a great option for others. To figure out if you should have life insurance, consider things like your age and any significant milestones that you have accomplished such as buying a home, having a child, opening a business etc.
Every situation is different, and it actually depends on the person and their particular circumstance. Life insurance is not necessary for everyone, especially if you don't have children, a mortgage, or any other significant financial responsibilities. But if you do have financial obligations like: kids, a business, mortgage or home expenses, loved ones you want to protect, any kind of debts, then getting life insurance is a great idea that will give you and your family peace of mind that your loved ones won't be financially burdened in the case of your death. 
In the end, the answer to the general question of if life insurance is worth it depends on each person's individual circumstance. Fortunately, we can all agree that life insurance is the best option for people who have dependents or loved ones they wish to protect from financial troubles, as well as for people who have financial responsibilities like a mortgage, a business, or outstanding bills.
 If you're still unsure if life insurance is a fit for you and your family, check out our blog: Is Life Insurance Worth it in Canada?