Is Life Insurance Worth it in Canada? [2022]
Life insurance isn't for everyone, but it can be essential for some. Find out if life insurance is worth it in Canada.
16 Minute read
Is Life Insurance Worth it in Canada? [2022]
Life insurance isn't for everyone, but it can be essential for some. Find out if life insurance is worth it in Canada.
16 Minute read
Is life insurance worth it in Canada? It depends, life insurance has great benefits and it is a great way to financially secure your loved ones after you pass but it might not be right for you. The life insurance coverage that you purchase is extremely crucial, so you must consider many factors before you get a life insurance policy. Think about the kind of life insurance you want: do you want a fully underwritten term life insurance or permanent life insurance policy, or maybe you want a simplified or no medical life insurance policy. The age that you are at the moment plays a big role as well, and to be frank, if you are someone with no dependents or financial obligations, then life insurance is probably not necessary, but if you are someone who has a spouse, has dependents and financial obligations like a mortgage, life insurance is very important to have. There are plenty of things that you need to consider when thinking about getting life insurance, so read our guide to finding out if life insurance is worth it to you!
What is life insurance?
Life insurance is basically a contract between you and a life insurance company. They provide you a certain amount of coverage, while you pay for this coverage in monthly premiums. In the case of your death, your beneficiaries will be given a life insurance payout. This money is typically granted tax-free, and can be used towards anything including the funeral costs, paying off the mortgage, debts and for your child's education, etc. Life insurance is intended to give you the peace of mind that your family will be in a good financial position when you pass away.
Types of life insurance? 
There are a few major types of life insurance available for you to choose from, they are designed to fit many different circumstances and lifestyles. These are the different types of life insurance: 
Term life insurance

Permanent life insurance

Simplified issue life insurance

No medical life insurance / Guaranteed issue life insurance

Critical Illness insurance

Disability Insurance
Term life insurance
Term life insurance protects you for a certain period of time. Term life insurance policies are available in terms ranging from 5 up to 40 years. These policies work similarly to other types of insurance policies you may have: you pay a monthly payment, and in the event of your death, a payout is given out to your beneficiaries. 
Why term life insurance is worth it
Financial security for you and your family in the event of a death or disability.

Significantly more affordable compared to whole life insurance policies.

Adaptable policy terms to best suit your needs.

Once you've locked in your policy, your rates will never change.

Guaranteed death benefit.

Peace of mind knowing your family is protected.
Permanent life insurance
Permanent life insurance is a type of life insurance that never expires and pays a benefit upon the death of the insured. Many permanent life insurance policies also include a cash value component, which means that a percentage of your premium payment goes toward cash accumulation, which grows tax-deferred. You can borrow against the cash value, but the interest on these loans frequently adds up and reduces the ultimate death benefit. Permanent life insurance, like every other type of insurance, has advantages and cons. There are two types of permanent life insurance: whole life insurance and universal life insurance.
Bundled premium which includes cost of insurance and investment.


Premium is level for life of the policy.

Premium can be for both insurance and investment or insurance alone.

Premium can either be level or increasing yearly.

Premium vs. Face

Amount of Insurance

Higher premium than comparable Universal Life

Lower premium than comparable Whole Life policy

Investment

Options Within Policy

No investment options available, completely managed by Whole Life fund managers.


Easier to manage with no need to monitor investment account.

Wide variety of investment options, however self managed.


Must select from Insurance companies investment funds.

Impact of Market

Conditions on Cash Values

Cash surrender value increases with dividends received from policy.


Cash surrender value cannot decrease no matter market conditions.

Account value may fluctuate with market conditions.


Investment returns completely dependent on policy portfolio.

Paid for by Automatic Premium Loan from cash surrender value, if available

Premium paid directly from account value, if available

Advantage of Monthly

vs. Annual Premium

Policy offers discount when paid annually upto 12%

No difference if paid monthly or annually
Why permanent life insurance is worth it
Policy stays for life with level premiums

Some policies offer limited pay periods for premiums (you only have to pay for a set period of time, not indefinitely)

You can grow an investment with the policy
No Medical life insurance / Guaranteed issue life insurance
No medical life insurance is a type of life insurance that does not require you to have a medical exam or an attending physician's statement (APS) as part of the underwriting process. These policies are ideal for people who are unable to obtain regular coverage due to physical issues, mental illness, criminal records, hazardous employment, or a variety of other circumstances. Due to said qualities, these individuals tend to get unfavourable ratings from life insurance companies. Therefore, no medical life insurance policies that allow people in these challenging conditions to acquire coverage. This coverage tends to be more expensive and has a smaller coverage amount than a fully underwritten policy like term life insurance or permanent life insurance, but it provides peace of mind to those who would not otherwise qualify for any life insurance coverage.
Why No Medical life insurance / Guaranteed issue life insurance is worth it
No medical examination is required

Reduced approval time

Increased probability of approval

Coverage for hazardous activities and occupations

Coverage for international travel is provided

Ignores previous substance addiction and/or criminal background

Application process is less time-consuming
Simplified issue life insurance
Simplified issue insurance policies do not require a medical exam, but you must answer certain medical questions on the application. Premiums typically cost more than fully underwritten life insurance policies, but they are definitely reasonable. The number of questions answered varies by insurer and by whether the coverage is deferred or not. Simplified issue life insurance is an option for those who want faster approval or don't want to take a medical exam, and are generally used for term life insurance products.
Why simplified issue life insurance is worth it
Comparable coverage amounts to traditional life insurance policies

Typically can accept most people who are declined from traditional life insurance

More affordable than no medical life insurance

No medical exam required
Critical Illness Insurance
Critical Illness Insurance, like Life Insurance, is a term insurance policy that will pay out a lump sum if you are diagnosed with a serious illness. You have the flexibility to use that lump sum payout to help make ends meet while you're ill, including medical costs, non-medical expenses such as lost income, transportation/travel costs, and so on, recovery therapies, and more. Your personalized contract will specify which situations your policy covers, such as a stroke, heart attack, or cancer.
Why critical illness insurance is worth it
Tax-Free payments

Cash flow that is flexible enough to cover expenses or lost income

Extended coverage — critical illness insurance pays for expenses that your medical insurance may not cover

Finally, peace of mind in a difficult situation
Disability Insurance 
Disability insurance replaces a portion of your income if you are unable to work for an extended period of time due to illness or injury. It can provide you with tax-free monthly income to help you pay your bills if you are unable to work due to illness or an accident. It doesn't matter if you work full-time, part-time, self-employed, or as a freelancer; if you rely on a paycheque, protecting your income stream is one of the best decisions you can make.
Why disability insurance is worth it
Disability insurance protects you and your family financially in the event of death or disability

Significantly less expensive than whole life insurance policies

Policy terms that can be tailored to your specific requirements

Your rates will never change once you've locked in your policy

Death benefit is guaranteed

You'll have peace of mind knowing your family is safe from financial hardships
Who needs life insurance?
Every situation is unique, and it really depends on the individual and their specific situation. Life insurance isn't a necessity, if you are an adult who has no dependents and does not have a mortgage or any outstanding financial debts and obligations, you probably don't need life insurance. If this is you, maybe it isn't the right time for life insurance just yet but critical illness insurance or disability insurance might be a good choice for you.
However, if you are an adult who has dependents, if you have a mortgage or a business, or loved ones that you want to protect in the event of your death, then life insurance is definitely something that you should have. The financial burden that your family is left with after your death can be very difficult to manage and lead to prolonged financial hardships. This is where life insurance would be beneficial, it will provide your loved ones the coverage amount upon your death, this can be used by your family to remain financially stable and meet financial obligations even after you pass. There are even others who might want to get life insurance as well, for example a senior doesn't want their family to have to deal with the financial hardships of a funeral, but also wishes to leave their grandchildren with money for their future education. This senior will want to purchase life insurance because this would be greatly beneficial even though they don't have any dependants. 
Determining who needs life insurance is a broad question and it really varies case by case. Luckily, we can agree that life insurance is ideal for someone who has dependents or loved ones they want to protect from financial hardships and/or someone who has financial obligations like a mortgage, a business, or outstanding debts. 
Should I get life insurance?
Figuring out if life insurance is right for you might be a very tough decision to make. To be completely transparent, it is not right for everyone, and it is a great choice for others. A great way to find out if you need life insurance is by considering your age and considering the common milestones that you might have reached so far.
Should I get life insurance in my 20s?
Example #1: James is a 22 year old single male who is working towards getting his bachelor's degree in applied health sciences and he is currently working a part-time job to cover some of his basic expenses. He lives with his parents, does not have a child, he does not own a car, and his OSAP loan is all that he currently owes. 
James does not need life insurance because he simply doesn't have many financial obligations, nor does he have any dependents that will be financially burdened in the event of his death. 
Example #2: Raj is a 28 year old software engineer, he recently purchased a condominium with the help of his wife and a co-sign on the mortgage loan from his mother. His wife is continuing her education, so she is currently just working a part-time job and slowly paying off her student debt. They both are leasing a car and have plenty of other open debts. 
Life insurance is worth it for Raj. If he passes, the financial burden would be too much on his mother and his wife. He also has open debts including his mortgage, and his car lease, these are other expenses that need to be paid for in the case of his death. 
Should I get life insurance in my 30s? 
Example #1: Abby is a 32 year old nurse at a local hospital. She is currently renting an apartment with her 35 year old boyfriend, who works at a warehouse, and they have 2 young children together. They recently found out that Abby is expecting another child. 
Life insurance is worth it for Abby and her boyfriend as they are both parents who have dependent children. Luckily, Abby and her boyfriend are both young so they can get a really good rate for a term life insurance policy. 
Example #2: Jose is 38 years old and he is married to his 37 year old wife, and they have a 2 year old daughter. They both are teachers and have purchased a home together just 3 years ago and are excited for their young family. 
Life insurance is worth it for Jose and his wife, they are both dealing with the financial burden of a mortgage, and they also have a dependent child who will definitely require financial support throughout their life prior to becoming an adult.
Should I get life insurance in my 40s? 
Example #1: Mahad is a 45 year old owner of a restaurant, he is married and has 3 children who are all in high school. Mahad and his wife recently purchased a house together.  Mahad's wife works at Mahad's restaurant. 
Life insurance is worth it for Mahad, he is a business owner and a homeowner, along with that, they have 3 dependent children, it would be in Mahad's best interest if he purchased life insurance to protect his house, his business and his loved ones.
Example #2: Lori is a 41 year old bank manager, her husband is a mechanic but they have no children. Lori and her husband purchased a home 8 years ago. They are in a solid financial position with not many expenses. 
Life insurance is worth it for Lori and her husband because the financial burden would be extremely tough if one of them passed. Although they don't have children, they do have financial obligations such as a mortgage.
Should I get life insurance in my 50s, 60s, 70s? 
Life insurance can be more expensive when you are older, but that being said life insurance is worth it for seniors in Canada. You can find some favourable rates if you are renewing your life insurance or if you are a preferred patient in good health. Life insurance for seniors is definitely beneficial especially because some people might still be paying off a mortgage or their loved ones might be older yet, still be dependent on them. Depending on your situation, life insurance is great to have in the later years of life or as a senior. The peace of mind to know that you will leave your loved ones behind with a lump-sum of money is quite important. Funeral expenses are not cheap, your grandchildren might want to get a post-secondary education, and you might have some final expenses to pay off. 
What is considered by life insurance companies? 
Life insurance companies will consider plenty of factors when you are applying to purchase life insurance. Fully underwritten life insurance policies typically look into these categories: 
Reason to buy life insurance
There are plenty of reasons to buy life insurance and they might be reasons that are applicable to you. As mentioned earlier, not everyone needs to buy life insurance but this all comes down to personal factors that might make acquiring life insurance a no-brainer. Below is a list of reasons why you should buy life insurance: 
1. Financial security for your family
The most significant benefit of life insurance is its financial purpose. Paying life insurance premiums per month in exchange for a large sum of money when you die, is a small price to pay to financially support your loved ones for the long run. A sufficient death benefit can cover future living expenses such as a mortgage and college tuition for your children. It can also serve as a financial buffer for unanticipated expenses. The death benefit is paid out as a tax-free lump sum, thus life insurance is key to protecting your family even after you pass.
2. Affordable investment
Life insurance policies can be extremely affordable depending on if you have a preferred health rating and are a relatively low risk client based on some of the factors that are considered by life insurance providers. There are rates as low as $26 dollars per month if you are a 30 non-smoking year old male who is in good health. This small monthly investment is greatly beneficial and is a small price for the amazing financial impact that life insurance coverage will grant to your beneficiaries in the event of your death.
3. Life insurance options for everyone
Being that there are simplified issue life insurance policies and there are also guaranteed issue life insurance policies, it is very easy to obtain life insurance. No matter what your health condition is, your job is, or your lifestyle choices are, you are most likely able to get a life insurance policy. Aside from fully underwritten life insurance policies, you can find great coverage amounts available for simplified issue and guaranteed issues life insurance policies, though they can be a bit pricier than fully underwritten policies, they are still worth it indeed.
Reasons not to buy life insurance? 
The reasons not to buy life insurance might be that you do not have any dependents, debts or financial obligations. This would definitely be a reason not to buy life insurance as it is probably best to just focus on your savings at this point in life. The other reason not to buy life insurance is if you are simply not in the financial position to take on another bill to pay per month. Although life insurance can be cheaper than a cup of coffee per day, it might be smart to just save your money if you are not in the position to afford monthly life insurance policies. In this case, we recommend that you continue to save, and look into safe forms of investing (GICs) with savings accounts like TFSAs and RRSPs
How much life insurance do I need in Canada?
The amount of life insurance that you need is dependent on many different factors, you must consider your debts, your income, your spouse's income, the mortgage (if you have one), if you have children who have educational expenses, and many other factors. Luckily, it is much easier to evaluate and figure out how much life insurance you need in Canada. Here are some of the best ways to figure out how much life insurance you need: 
The DIME formula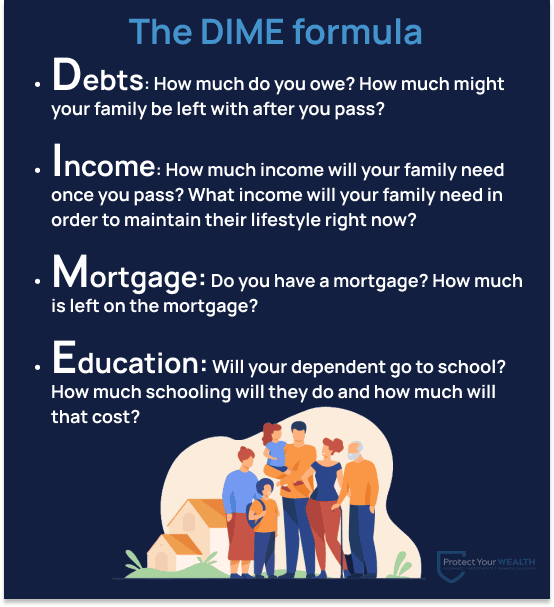 Annual Income Times Ten
The quickest way to find out how much life insurance coverage you will need in order for your family to maintain their financial stance and to not become financially burdened is to multiply your annual income by ten. Simply take the yearly amount you make currently and multiply it by ten, for example if your annual income is $65,000, then take $65,000 X 10 = $650,000. This calculation determines that you need $650,000 in life insurance coverage in order for your loved ones to continue to live comfortably after your death.
Other considerations
Everyone has a unique situation in their personal life and it isn't easy to decide on how much life insurance coverage you need. There are many things that are needed to be considered as well, always consider your own age and your own health as well as your spouse's, consider how many family members you will be listing as your beneficiaries, consider future family members (grandchildren, in-laws) and finally, consider what the future looks like for yourself and your family. 
Finding the right life insurance policy
A life insurance policy can be purchased from a life insurance company or from a major financial institution. It is strongly recommended that you work with an insurance broker. Our insurance brokers provide award-winning services for free, we will evaluate a needs and wants assessment, and after that, we will try to find out the best life insurance policy for you. Working with a broker allows you to take a look at all of your options, therefore it allows you to decide on which company, which policy and which rates work with you. A life insurance broker is a professional who is licensed and only will work with other professional and established life insurance companies, this is a great way to avoid any life insurance scams. 
So, is life insurance worth it in Canada?
Whether you want to secure your estate, your business or make sure that you loved ones are not financially burdened in the event on your death, having life insurance can be extremely important. Many different examples show that most people who have any assets, or financial liabilities would be better off if they had a life insurance policy to provide them with coverage. 
At Protect Your Wealth, we work with and compare policies and quotes from the best life insurance companies in Canada to create the best solution for you and your needs. We've been providing expert life insurance solutions since 2007, including no medical life insurance, term life insurance, and permanent life insurance, to build the best package to give you the protection you need.
Contact Protect Your Wealth or call us at 1-877-654-6119 to talk to an advisor today! We're proudly based out of Hamilton, ON, and service clients anywhere in British Columbia and Ontario, including areas such as Burlington, Oshawa and Waterdown.