Guaranteed Issue vs Simplified vs Fully Underwritten Life Insurance Policies
What option is best for you? How do they affect your life insurance?
8 Minute read
Originally Published: June 4, 2021
Updated: June 7, 2023
Guaranteed Issue vs Simplified vs Fully Underwritten Life Insurance Policies
What option is best for you? How do they affect your life insurance
8 Minute read
Originally Published: June 4, 2021
Updated: June 7, 2023
Whether it's your first time buying life insurance, or you've been browsing for a while, you've probably come across a few different options for applying for either term or permanent life insurance. Here's what you need to know about the difference between the different types of life insurance: fully underwritten, simplified issue, and guaranteed issue life insurance.
What Are My Life Insurance Options?
While looking for life insurance, you'll commonly come across three types of life insurance: fully underwritten, simplified issue, and guaranteed issue. Each has their pros and cons, and are designed for different situations and needs. Fully underwritten and simplified are for term life insurance and permanent life insurance, whereas the guaranteed issue is typically only for permanent life insurance, aimed to cover your whole life.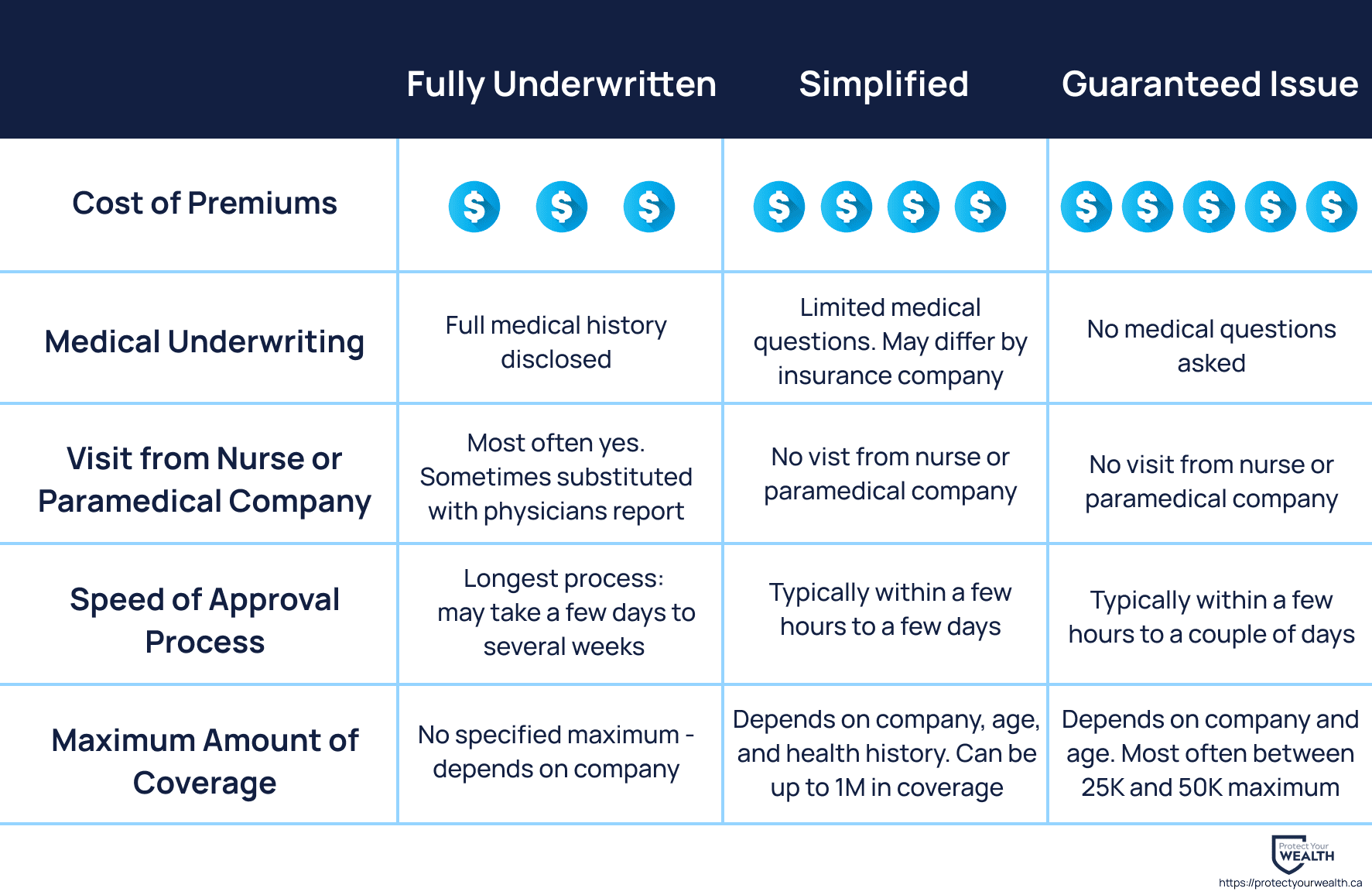 With Fully Underwritten policies:
Your full medical history is disclosed

Most often will have a nurse or paramedical company visit you, or sometimes can be substituted with a physician's report.

Longest approval process: may take a few days to several weeks.

No specified maximum coverage amount.
With Simplified Issue policies:
Your medical underwriting is limited to medical questions. May differ by insurance company.

No visit from a nurse or paramedical company.

Approval is typically within a few hours to a few days.

Coverage amount depends on company, age and health history. Can be up to 1M in coverage.
With Guaranteed Issue policies:
You have no medical underwriting (no medical questions asked)

No visit from a nurse or paramedical company.

Approval is typically within a few hours to a couple of days.

Coverage amount depends on company and age but is most often between 25K and 50K maximum
What is Fully Underwritten Life Insurance?
Fully underwritten life insurance, also known as medically underwritten insurance or traditional insurance, is for people in good health with no serious medical or lifestyle concerns.
Applying for a fully underwritten policy typically (although not always) requires a medical exam done by a nurse visiting your home. This medical exam can consist of:
Getting your height and weight measured
Providing blood and urine samples
Getting your blood pressure checked
Potentially taking other tests, such an electrocardiogram
The results for these tests and samples typically take a few days to sometimes a few weeks, which is why this process takes the longest to get approved for. However, if you have exceptionally good health, you might qualify for an even better premium rate than the one you were quoted.
In 2017, Manulife Insurance, Canada's largest life insurance provider, introduced accelerated underwriting for life insurance policies. This new process reduced medical underwriting (no fluids or biometric testing) and has resulted in quicker underwriting decisions.
Since that time, many life insurance carriers in Canada have followed which has resulted in several options for approval with no medical tests. The COVID-19 pandemic in 2021 significantly impacted the life insurance underwriting process as companies expanded their no medical limits. Although deemed temporary measures, many expect these accelerated underwriting guidelines to remain permanent.
As of 2023, the following limits are available with no fluids:
For Life Insurance
Ages 18 to 50, $5,000,000 or less

Ages 51 to 60, $1,000,000 or less

Ages 61 to 70, $99,999 or less
For Critical Illness Insurance
Ages 18 to 40 for $250,000 or less of coverage

Ages 41 to 50 for $100,000 or less of coverage
For Disability Insurance
Ages 40 and under for up to $6,000 monthly income benefit

Ages 41 and over for up to $2,500 monthly income benefit
What is Simplified Issue Insurance?
Simplified issue insurance policies don't require a medical exam but do require you to answer certain health-related questions as part of your application. In return for no medical exam, premiums tend to be higher than traditional insurance. The number of questions asked vary for each insurer, and also vary depending on if the policy is deferred or not. Simplified issue insurance is an option for those who want faster approval or don't want to take a medical exam, and are generally used for term life insurance products.
Below is a highlighted chart of simplified issue insurance options available, and the number of questions their applications ask.
What is Deferred Life Insurance?
Some insurers offer deferred life insurance policies, like Industrial Alliance and Canada Protection Plan. Deferred life insurance refers to a type of policy where the insured is not covered for a period of time (typically 24 months) and will only receive their premiums back plus some interest if death occurs in that period of time. Deferred policies ask less medical questions during the application, but result in higher premiums.
Some insurers offer a version called Deferred Plus that asks more medical questions, but comes at a lower premium than the regular deferred coverage. It also has no coverage in the first 24 months.
Immediate coverage is the standard policy most insurers work with, and covers the applicant on day one of getting approved.
Deferred insurance plans are similar to simplified life insurance, and are another option for those who may have been declined life insurance in the past, or have trouble obtaining life insurance.
What is Guaranteed Life Insurance?
These plans ask no questions at all, and require no medical exams. Guaranteed issue insurance is designed for those who have more serious health issues, or are older in age and do not qualify for traditional or simplified insurance. Many insurers will also have a deferral period of 24 months for guaranteed life acceptance insurance. Guaranteed issue insurance coverage generally has a maximum of $50,000, with some insurers covering less, and comes at the highest premium out of the three because it's also a type of permanent life insurance.
How Does Guaranteed Life Insurance Work?
Similar to other types of life insurance, guaranteed issue policies pay you a tax-free death benefit that your beneficiaries can use for any purpose. However, since the death benefits for these insurance policies are often less than $50,000, it makes sense to use them to pay for funeral or burial expenses.
Guaranteed Issue Coverage
This type of life insurance does not require a medical exam, and insurers do not inquire about health status. This is why it is referred to as "guaranteed issue." These policies can often include a graded benefit (deferral) term, which normally lasts two years. During this time, the full benefit is only paid for accidental death, with a substantially lower payment paid for natural death. For example, if the insured individual dies from heart disease within the graded benefit period, the insurer may return all premium payments plus 10% to 30% of the full benefit to the beneficiaries rather than paying the full benefit amount.
Insurance Exclusions and Age Requirements
In order to qualify for guaranteed issue life insurance, you must generally be between 45 and 85 years old, however age ranges can vary slightly between insurers. With this type of insurance, you should not expect extensive coverage or options for riders for policy customization. Typically, carriers give up to $50,000 in coverage. Due to the lack of eligibility requirements and the risk applicants may carry for these policies, their premiums are typically more expensive than insurance that involves some medical underwriting and can vary greatly between providers.
Purchasing Guaranteed Life Insurance
The process of obtaining one form of insurance from one company vs another differs depending on the type of insurance. You have the option of working with a life insurance agent to make your purchase, or you may get an estimate and buy a policy online all in the same sitting with some of the larger life insurance firms. An application would often ask for only the most basic of information from you, such as your age and gender, as well as the names of your beneficiaries and their relationships to you. There is a possibility that the application will question you if the policy you are asking for will replace any existing life insurance coverage.
What is the Difference in Cost?
Quotes will vary with each insurer, but the costs follow the same pattern: fully underwritten has the lowest premiums, and guaranteed issue has the highest premiums. Simplified is a mix of the two types, and is in the middle in terms of price. To better illustrate this, below are quotes from Canada Protection Plan's (CPP) fully underwritten and simplified issue options, based on a 45 year old male non-smoker for $500,000, for a 10 year term.
Note that CPP's maximum coverage for their deferred term insurance maximum coverage is $350,000, and their guaranteed issue is $50,000. This is usually the case for other insurance companies as well: guaranteed issue coverage tends to be less than other products.
Frequently Asked Questions (FAQs)
Simplified issue life insurance will ask health questions and do a full underwriting outside of the traditional medical exam. This means you will need to be in a good health in order to qualify for affordable rates. Guaranteed issue life insurance, on the other hand, requires no health questions, underwriting and guarantees approval. This comes at a higher cost than traditional life insurance policies.
A fully underwritten policy ensures that all the assessments done by the life insurance company are completed for you so nothing surprising comes up during the claim time.
Underwriting is the process when an insurer analyzes your life insurance application to determine what your premium will be based on the policy you applied for and your health and lifestyle.
Simplified term life insurance is a type of life insurance that does not require a medical exam or ask as many health questions as the traditional term life insurance policies.
Do you have any other Life Insurance Questions?
Whether this is your first time purchasing life insurance or you've been shopping around for a while, you've undoubtedly come across with these various policy types. A life insurance specialist can help you create the best plan and package for your needs.
At Protect Your Wealth, we have been providing life insurance and expert advice since 2007. If you're not sure which of the types of life insurance applications will best fit your needs and situation, we'll be more than happy to help. We work with and compare policies and quotes from the best life insurance companies in Canada to ensure the best solution for you and your needs. We provide expert life insurance solutions, including no medical life insurance, critical illness insurance, term life insurance, and permanent life insurance to build the best package to give you the protection you need. 
Contact Protect Your Wealth or call us at 1-877-654-6119 to talk to an advisor today! We're proudly based out of Hamilton, and service clients anywhere in Ontario, Alberta, and British Columbia, including areas such as Oakville, Abbotsford, and Grande Prairie.