Life Insurance for Occasional or One Time Drug Use
Worried that your one time or occasional drug use will affect your life insurance? Talk to one of our experienced advisors, today!
13 minute read
Originally published: November 25, 2022
Updated: December 14, 2022
Life Insurance for Occasional or One Time Drug Use
Worried that your one time or occasional drug use will affect your life insurance? Talk to one of our experienced advisors, today!
13 minute read
Originally published: November 25, 2022
Updated: December 14, 2022
We know there is a distinction between someone who uses drugs for recreational purposes and someone who is addicted, but what constitutes as recreational drug use? The distinction may change depending on the substance and the person. In general, variables like frequency, reliance, cravings, withdrawal, impact on health, and influence on daily life, among others, can be used to distinguish between a drug addiction and recreational usage.
To learn more about life insurance for recovering addicts, check out the article for a more thorough discussion. 
Experimental drug usage frequently starts with a more socially acceptable substance like alcohol, nicotine, or marijuana. Although this article isn't meant to discuss the dangers of drugs, it is nonetheless important to note that even experimental drug usage is harmful. We have clients who occasionally use drugs whether it be at a party or socially with friends recently or several years ago. A common question we get is "Can I get life insurance if I occasionally use drugs?"
Yes, you can get life insurance even if you have experimented with drugs. Since there are a wide variety of different drugs and their usage varies, it is important to reach out to a life insurance specialist who can help you find the best possible policy.
What Effects Do Drugs Have on Life Insurance?
Your insurer assesses your health and lifestyle risks as part of the life insurance underwriting process to determine your premiums. Your rates will go up the greater your risk level. You can be turned down for life insurance if you're deemed to be too high risk.
You can still receive life insurance if you occasionally use drugs such as marijuana, or alcohol. However, having a history of drug or alcohol misuse makes you a riskier applicant, owing to the possibility of relapse and related health issues. Denials of coverage are possible, particularly within the first five years after your recovery.
Some important information that underwriters will likely need when making a decision include:
Any health problems or persistent symptoms.

Length of time you used drugs or were addicted to drugs.

The type of drugs and how you used them.

If you had any suicidal thoughts or attempts while you were using. Any other mental health issues while using may be asked about.

If you received medical care or if you're planning on because of your drug use.

If you were referred to any specialist because of your drug use.
How Life Insurers Assess Certain Drug Users
Marijuana
You can be eligible for life insurance and perhaps receive preferred rates if you occasionally consume marijuana or use it for recreational purposes. Those who use marijuana frequently or for its therapeutic properties may have to pay higher premiums. Depending on the insurance company, the definition of medical marijuana may change.
To evaluate your cannabis use, life insurance companies will take the following factors into account:
Marijuana use patterns i.e. whether you smoke or ingest it

Frequency of marijuana use

Whether you use it for health reasons or for fun
Insurance companies will also take into account your health and lifestyle when classifying you as Preferred Plus, Preferred, Standard, or Sub-standard in terms of your health. The better your health rating, the lower your premium.
Alcohol
Casual drinking won't have any effect on your ability to obtain life insurance if it doesn't harm your health. However, frequent drinking or a history of alcoholism may result in increased insurance costs. If you have other health issues brought on by your drinking or drink so much that you're likely to experience health issues in the future, you might not be able to qualify for a medically underwritten insurance at all.
You might have to answer questions about your alcohol intake when you apply for life insurance. Typically, the following information will be asked by insurers:
How many alcoholic drinks you consume daily

If you've ever experienced any illnesses brought on by drinking alcohol

If you've visited a doctor or sought out medical advice about drinking

If you've ever missed work because you drank alcohol

Information on your driving history
Prescription Drugs
Although the problems they treat can have an impact, prescription medications on their own may not necessarily have a negative impact on your life insurance prices or approvals. For instance, the higher risk of death associated with having diabetes will have an impact on your application.
Life insurance companies are wary of several medications because of the opioid crisis in Canada. They might put you in a higher risk group until you stop taking the medicine and can demonstrate that you don't have any dependency problems.
Hard Drugs
Life insurance companies are likely to reject your application if you use any illegal medications or non-prescription painkillers. Before extending coverage, providers will require proof of several years of abstinence from heavy drugs, similar to how they do with alcohol. Healthy people may be eligible for the best rates after ten years. Your life insurance application will be automatically rejected if you currently use illegal substances. These include:
Cocaine

Heroin

Meth

Painkillers that were not prescribed
Before you can get coverage, you'll need to have been drug-free for at least a year, though this can varies between insurers. Keep in mind that you can get immediate coverage of life insurance as long as you have not sought treatment or counselling in past 1 year.
Below is a summary of the length of time before coverage becomes possible if you are regularly using any of the following hard drugs.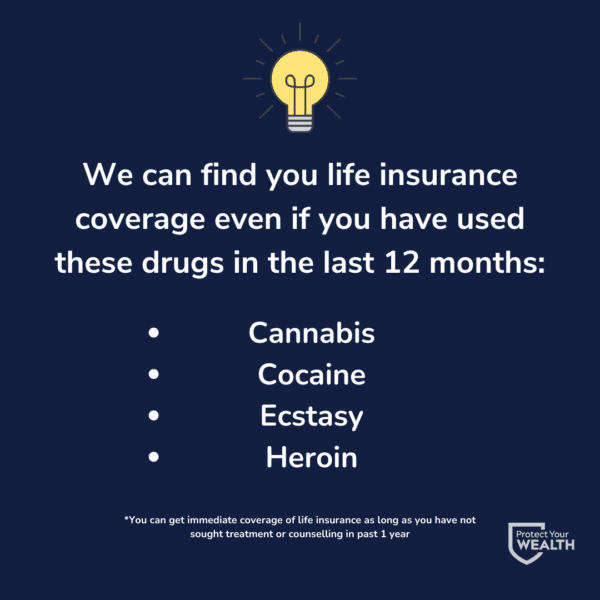 What If You Used Drugs Previously?
Your rates and chances of approval will differ depending on how long you've been sober and the nature of your substance usage. When making their choice, underwriters will consider many things, including:
Duration of your substance abuse

Type and quantity of drugs used

Legal consequence of substance abuse

Treatment plans (e.g. rehab)

Method of administration (e.g. smoking, injection)

Recovery or relapse history
They will also search your medical history for any health issues due to previous substance addiction. Alcohol addiction, for example, has various harmful long-term repercussions, including an increased risk of developing health conditions like heart disease, cirrhosis, and cancer.
Due to the higher risk of death from relapse, insurers prefer to see a long history of sobriety before approving you for a typical life insurance policy. Depending on the nature of misuse, some insurers may require five or even ten years of abstinence before granting an application.
Can I Purchase Life Insurance if I Have Previously Used Illegal Drugs?
If you've ever taken illicit drugs, you can typically still get life insurance. The longer it has been since your last drug usage, the more likely it is that you will be able to qualify for life and critical illness insurance. A test for HIV, Hepatitis B, or Hepatitis C may be requested if intravenous drug use is present. Whether or not this is possible will depend on the following information:
Are you currently drug-free?

What substances did you use?

How frequently did you take drugs?

When did you last use the drugs?

Information on any negative effects on health that drug usage may have had or made worse.
I experimented with hard drugs before and am wondering if I can find coverage, what are my options?
If you've ever experimented with hard drugs before just know that you can still get life insurance. Life insurance companies that people make bad decisions, with that being said they know that there are plenty of one time mistakes that people make and one of them is using a hard drug. If you have used a hard drug and it was just a one-time occurrence this will not affect your life insurance coverage, in fact you can find high life insurance coverage amounts even if you have used a hard drug within the last 12 months, and this amount keeps getting higher as time goes on.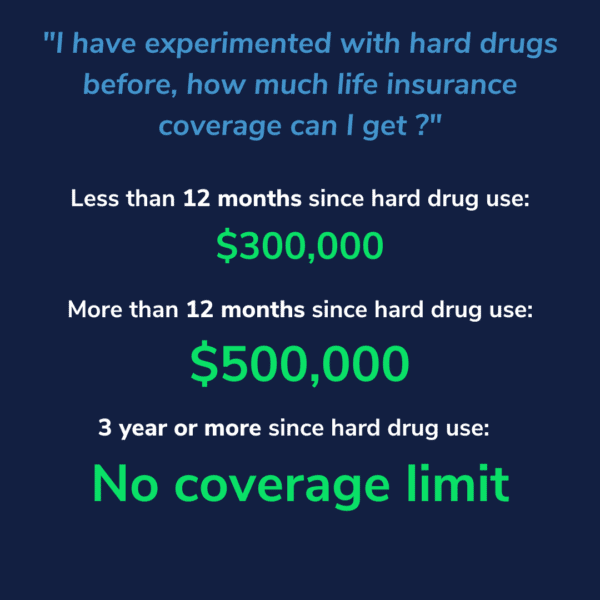 Life Insurance for Occasional Drug Users 
Your life insurance provider will likely consider you to be a higher risk to insure if you use drugs. The main problem for insurers is the connection between drug usage and health problems. For instance, the CDC estimates that smoking tobacco reduces life expectancy by at least 10 years. Additionally, drinking alcohol increases the chance of deadly automobile accidents and serious diseases including liver cirrhosis and cardiovascular disease. Although you may think your options for life insurance may be limited if you have used drugs recreationally once in the past or occasionally now, you may qualify for more types of insurance than you think.
Permanent Life Insurance
Permanent life insurance is coverage that never expires and gives a death benefit to the insured. Numerous permanent life insurance policies include a cash value component, in which a percentage of your premium payment goes toward tax-deferred cash accumulation. You can withdraw the cash value or borrow against it. Typically, an increase in the cash value of a life insurance policy will also raise the potential death benefit. As with all insurance forms, permanent life insurance features both pros and cons. There are three types of permanent life insurance plans available in Canada: Universal Life, Whole Life, and Term 100. (T100). All three policies offer lifelong coverage that pays out upon the insured's death, regardless of age. The likelihood of acquiring traditional life insurance varies between users of soft and heavy drugs.
In the soft drug category, a daily marijuana smoker will likely receive a decline, whereas a smoker who lights up three to five times a week will receive a rating. Even if a non-smoker occasionally lights up at a Saturday night party or less frequently, they will be charged the smoker's premium. The majority of insurers inquire about the individual's five-year history with these substances.

In the category of hard drugs, an applicant for traditional life insurance who has used these substances within the three to four years preceding the application will be automatically denied coverage, regardless of how recently or currently they are using. The drastically shorter life expectancy of a cocaine addict is the basis for an insurer's unwillingness to insure clients. If the client used hard drugs more than three years before the application, a rating offer may be made. Depending on the insurer, this could result in a premium rise of 100 to 300 percent. A former cocaine user who has not used the drug for at least six years may qualify for the regular rate, although this is not guaranteed. Sun Life, for instance, may or may not give life insurance depending on the response to a question on hard drug use during the preceding ten years.
Guaranteed Issue Life Insurance
Guaranteed issue insurance is aimed for people with more severe health conditions or who are older than the age requirements for traditional or simplified insurance. Note that many insurers also require a 24-month deferral period for guaranteed life acceptance insurance. Guaranteed issue insurance coverage typically has a limit of $50,000, but some insurers cover less. It has the highest cost of the three because it is a form of permanent life insurance. These plans contain no questions and do not require medical exams.
Group life insurance
Group life insurance is a specialized form of life insurance that provides protection for several individuals under a single policy by an employer. It is often sold as term insurance, which provides temporary coverage at a lesser cost than other types of life insurance.
Why Is It Important To Be Upfront About Your Drug Use?
It's critical to be upfront and truthful with insurance companies about any substance you use or have used. Although it frequently leads to more expensive premiums, you can be sure that your money won't be wasted. If you pass away and have a history of substance addiction, insurance companies may in some cases reject payments. Providers have a chance to check an application for inaccuracies and omissions within the contestability period. Life insurance companies have the right to revoke your coverage or charge you extra premiums if they discover that you lied about using drugs.
The contestability period is the first two years after submitting a life insurance application. It's one of the main reasons why your beneficiaries might not get paid out from the death benefit. If your provider discovers you lied, they can reject a claim if you pass away during the contestability period. Even if your death was unrelated to your present or former drug usage, this is still possible. For instance, even if you pass away in an airplane accident, the insurer will still reject your claim if they learn that you were abusing drugs without telling anyone. 
The majority of companies pay for accidental overdoses, but if your insurer learns that you have a history of abuse, they may reject your claim. This also holds true if you were involved in a drug-related mishap, such as crashing your car while intoxicated.
Drug Use Case Studies
Case Study #1: Michael is a 34 year old carpenter, he is happily married and has recently purchase his first home and is thinking of starting a family soon. With him having a mortgage and thinking of having children soon, it is a great idea for him to get a life insurance policy. Michael was recently invited to his friend's birthday party and after a few drinks, Michael used cocaine for the first time. This was not usual of Michael and this was his first time trying a hard drug, he is worried that this will affect his eligibility to get life insurance. Luckily, Michael's life insurance brokers told him that if he has done hard drugs in the last 12 months he can get coverage up to $300,000, after 12 months he can get up to $500,000, and after 3 years he can get any coverage amount he wants. Therefore, Michael found the right information and right plan for his needs.
Case Study #2: Boris is a 45 years old who owns an accountant firm and has a family with 3 young children, he has been needing life insurance for a while now but hasn't gotten around to buying it. Boris hides the fact that he sometimes takes prescription opioids often. When buying his life insurance policy he manages to secure a policy and doesn't tell the life insurance company about his drug addiction. 2 years later, Boris unfortunately overdoses and dies. When there is an autopsy done, they find out that he died directly due to the drug use that he hasn't mentioned to the life insurance company. The life insurance company does not give a payout to his beneficiaries because he hid his drug usage.
Case Study #3: Omar is a 30 year old computer engineer who has recently purchased a condo in a major city and was looking to get a life insurance policy for $1 million dollars. He frequented the club prior to buying his house and last year he did ecstacy while at the club, he has stopped since and it was just a random occurrence. Although it has only been just over 12 month since his last usage, he could only get $500,000 in coverage, what he did was get a second life insurance plan with the help of his brokers and they found him another $500,000 life insurance policy. Now with both of his life insurance policies he has $1 million dollars in coverage.
Frequently Asked Questions (FAQs) about Life Insurance for Occasional Drug Use

If you can't get term or permanent life insurance coverage, think about the following alternatives that do not require a medical exam: 
Group life insurance:

These plans, which are frequently provided by employers, are inexpensive yet provide less coverage than most people require.

Guaranteed issue life insurance:

Provides acceptance that is almost guaranteed, but at a cost of high premiums, reduced coverage amounts, and age restrictions.

Simplified issue life insurance:

It has comparable limitations to guaranteed issue coverage and may be rejected for people with critical illnesses or those living in assisted facilities.
You might want to wait a few years before applying for life insurance if you went to rehab to treat your substance abuse issue. Before granting an application, life insurance companies prefer to see a period of self-managed abstinence following rehab.
Yes, if an insurance company asks about it; otherwise, your insurance would be void. You will be required to respond to several health-related questions, one of which will inquire about your drug use. Your life insurance application won't move further if you decide not to respond to the question. If you lie about your drug usage, whether by withholding information that has been specifically requested of you or by telling lies, there will be no opportunity to appeal a denied claim. Every life insurance policy operates under the assumption that you were truthful when you signed a contract with the life insurance provider.
It depends on the provider, the kind of policy you have, and the particulars of the overdose. Usually, if you pass away in an accident, including an unintentional drug overdose, life insurance companies will make payments to your beneficiaries. However, under rare circumstances, your beneficiaries might not receive the death benefit if it is established that your drug overdose was purposeful. Suicide is normally specifically excluded from coverage for a certain amount of time, usually the first two years following the purchase of a policy. 
Not exactly, although it's possible that you'll need to undergo a blood test as part of a medical assessment for your application. It's possible that this test will reveal that you take drugs. If you admit to using intravenous drugs in the past, the application procedure may include requests for HIV, Hepatitis B, and C tests.
Finding the right life insurance policy for you
Drug use can be a complicated subject, so if you're not sure where to start, talk to a professional life insurance adviser. At Protect Your Wealth, we work with and compare policies and quotes from the best life insurance companies in Canada to ensure the best solution for you and your needs. We provide expert life insurance solutions, including no medical life insurance, critical illness insurance, term life insurance, and permanent life insurance to build the best package to give you the protection you need. 
To schedule a consultation about your income protection goals, or if you have any questions about insurance in Ontario or Canada, please contact Protect Your Wealth or call us at 1-877-654-6119 to talk to an advisor today! We're proudly based out of Hamilton, and service clients anywhere in Ontario, British Columbia, and Alberta, including areas such as Kingston, Toronto, Lethbridge, and Burnaby.