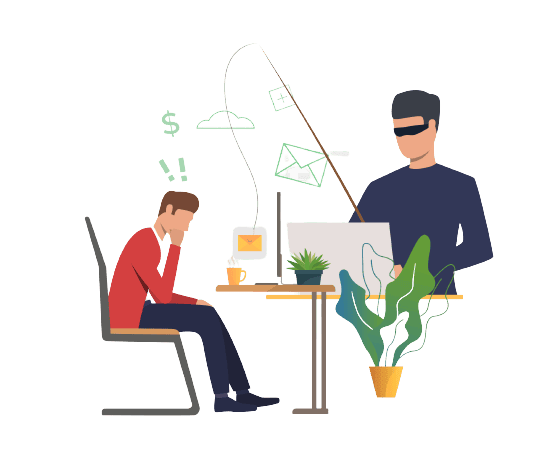 Life insurance scams and fraud in Canada are real issues and they do happen, although there are many options in Canada to safely apply and secure life insurance, it is best to always be aware of scams. In this blog post, we will be taking a look at how common insurance fraud is in Canada, and we will also explain how you can verify life insurance agents and life insurance companies to see if they are legitimate. There are also many tips that we will note that can help you avoid life insurance scams and where you can report life insurance fraud. Remember that licensed life insurance agents are always here to help and we offer a free consultation to discuss the best insurance options for you.
How common is insurance fraud in Canada?
There are many cases of home insurance fraud, auto insurance fraud, business insurance fraud, life insurance fraud and other kinds of insurance fraud. This being said, insurance fraud is indeed a common issue in Canada and statistics show that 77% of Canadians believe that insurance fraud is a huge issue.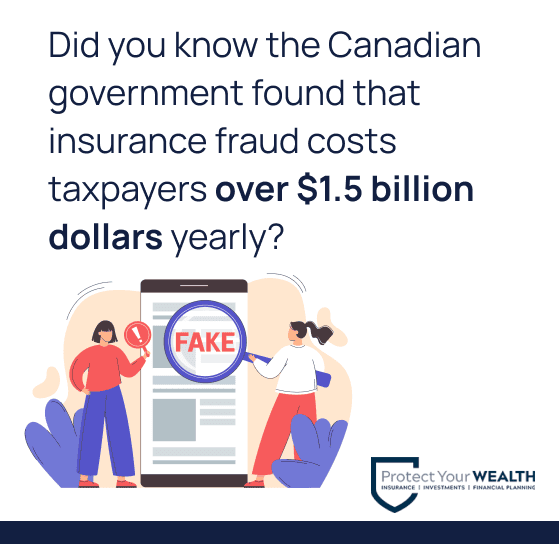 Life insurance scams in Canada
Life insurance fraud is also common and there are many strange cases of fraud or even malpractice where clients are convinced to buy the wrong kind of life insurance coverage. Sometimes there are cases where clients purchase life insurance coverage that is facilitated by companies that might not be legitimate, or life insurance policy is purchased for people without their consent. There are also plenty of cases of fake life insurance agents who might solicit calls to vulnerable people such as seniors, or people who are new to Canada. These fake life insurance agents are not licensed and are usually just looking to scam people out of their money. This is sometimes done through phishing emails that ask for personal information. 
The best way to secure yourself and to make sure that you are speaking to a licensed professional is by using a credible service. Licensed life insurance agents are not looking to take your money, in fact, our life insurance agents offer a free consultation to answer any questions you have about life insurance. Legitimate life insurance agents and companies also offer free and quick life insurance quotes, which can give potential clients a general idea of some life insurance products that are best suited for them.
How to verify a life insurance agent
Life insurance is regulated in each province in Canada by a regulatory body. It might seem tough to find out if the life insurance agent you're talking to and doing business with is a legitimately licensed life insurance agent but this is actually easy to do. There are resources provided by the Ontario government to verify licensed life insurance agents. The best resource that is available in this tool is to find licensed agents in Ontario created by the Financial Services Regulatory Authority of Ontario. All you will need is either the last name of the life insurance agent, their city or town or their license number. 
Life insurance agents also vow to work to find the best package for their clients regardless of monetary value. There are many different disclosure forms and conflict of interest forms that hold life insurance agents legally responsible to put their clients first and prioritizing fairness while providing the best service possible. Contact Protect Your Wealth today to learn more about finding the right life insurance for you and get professional advice from a licensed life insurance agent.
Where to report life insurance fraud
Life insurance fraud is a very serious issue that can really be detrimental to your finances and personal security. This is something that is common and should be taken seriously in all circumstances. If you or someone you know has become a victim of life insurance fraud you are urged to contact the Canadian Anti-Fraud Centre at this number: 1-888-495-8501.
How to check if a life insurance company is legit
The life insurance industry has a lot of agents, most of whom are legitimate brokers and business owners. It is always good to be safe and this means that it is best for you to do your own research into the service you're looking for. Keep in mind at all times that insurance is regulated, whether a life insurance agent works for a large insurance company or is self-employed, they must be licensed to sell life insurance and provide insurance in Canada. Some helpful things to also keep in mind is that life insurance companies will never ask you to share personal information via email, they will never ask you to send money or to give your bank details through email or over the phone, and any payments for their products should be made directly to their company instead of to third-party companies. 
Most insurance companies in Canada also are part of larger financial companies, make sure that you double-check their credibility. You can search up their AM Best Company score, and also check out their rating from the BBB (Better Business Bureau). Also, you can read our reviews on the best life insurance companies in Canada. Our comprehensive guide is a one-stop shop to find the right insurance company for you.
Tips to avoid life insurance scams
Before your purchase a life insurance policy please make sure that you check off this list of tips to avoid life insurance scams:
Frequently Asked Questions (FAQs) about life insurance scams
Finding the right life insurance for you
If you want to get a life insurance policy but are not sure where to start, please reach out to a licensed life insurance agent. Working with a life insurance agent can help you create the perfect life insurance plan and package for your needs.
At Protect Your Wealth, we work with and compare policies and quotes from the best life insurance companies in Canada to create the best solution for you and your needs. We've been providing expert life insurance solutions since 2007, including no medical life insurance, term life insurance, and permanent life insurance, to build the best package to give you the protection you need.
Contact Protect Your Wealth or call us at 1-877-654-6119 to talk to an advisor today! We're proudly based out of Hamilton, and service clients anywhere in Ontario, including areas such as Ancaster, Aurora, Burlington, Oakville, and Oshawa.