Life Insurance with Asthma
Talk to one of our experienced advisors, today!
7 minute read
Originally published: February 15, 2022
Updated: July 26, 2023
Life Insurance with Asthma in Canada
Talk to one of our experienced advisors today!
7 Minute read

Originally published: February 15, 2022
Updated: July 26, 2023
Are you an asthmatic in Canada looking to secure life insurance? Getting life insurance with asthma in Canada isn't as hard as you may think. We understand that asthma is a chronic condition that requires proper management, and we believe that it shouldn't hinder you from protecting your loved ones and securing your financial future. With medical advancements and lifestyle changes, asthma is a manageable illness for most, and life insurance companies are aware of this. In this article, we will dive into the specific considerations that insurance providers in Canada take into account when assessing applications from individuals with asthma.
Asthma is a common disease that many Canadians suffer from and in most cases  will not stop you from finding a life insurance policy. There are some cases where your asthma might be too severe for some life insurance companies to consider for a traditional life insurance product, but that is why it is always recommended to speak to an insurance advisor for a free consultation to help you find the best life insurance policy for you. 
That being said, we've had some concerned clients in the past who have serious asthma and aren't sure if they can qualify for life insurance on top of their existing health conditions.
The simple answer is yes! You can get life insurance no matter how severe your asthma may be. Your rates may differ from company to company and depending on the type of life insurance product you purchase, but there is always a life insurance product for you.
What is asthma?
Asthma is described as a chronic inflammatory disease of the airways in the body. Asthmatics tend to suffer from symptoms such as shortness of breath, tightness in the chest, coughing, and wheezing. Although asthma is not fatal in most cases it can be severe and is unfortunately incurable. Understanding this illness is important in knowing how to manage it, most people with asthma must be careful about certain lifestyle choices such as smoking, exercise, diet and other triggers to their asthma.
How Common is Asthma?
Asthma is an extremely common illness, and over 3 million Canadians are diagnosed with asthma.
How does asthma affect life insurance coverage?
Asthma is not an uncommon illness and insurance companies usually have favourable rates for those with mild asthma. Many insurance companies even offer no medical life insurance for those with asthma. It is important to realize that asthma can affect your life insurance policy depending on various factors.
Asthma, like many other medical conditions, is considered a high-risk medical condition. This being said, it is highly likely that if your asthma is anything more than mild, it can bump up your rates and in some severe cases you can even be denied by some life insurance companies. Purchasing a critical illness policy can be very tough in severe circumstances as well. All of these factors can be influenced by the type of insurance you get, and the level of the underwriting of your policy or even if there is no underwriting in your policy (such as in no medical life insurance).
Asthma can impact life insurance rates and coverage approval based on its severity and frequency. Individuals with mild asthma typically experience little to no effect on their rates, while those with severe and/or frequent asthma might face higher premiums or potential denial of coverage.
Contact Protect Your Wealth today to learn more about how your medical condition might affect your life insurance.
What do insurance companies look for when you apply with asthma
Life insurance companies look at a variety of factors when you're diagnosed with asthma. Most life insurance companies will also require you to take a medical exam if you apply for life insurance unless you apply for a no medical exam policy.
The common questions that asthmatics are asked include plenty of personal questions regarding your health and lifestyle choices. Though most companies in Canada accept clients who are diagnosed with asthma, these are the basic questions that most insurance companies ask:
Your age

Date of diagnosis

Frequency of your asthma attacks

Time of asthma attacks (day/evening/night)

The severity of your asthma attacks

Current treatments you're undergoing in regards to coping with your asthma 

Your compliance with your treatment requirements 

Current medications you're taking for your asthma

Your compliance to taking your asthma medications

Side effects of asthma medications

Limitations of physical activities

Pulmonary functions test results

Details regarding lifestyle changes due to your asthma 

Hospitalizations due to/related to your asthma

Time lost from school or work due to your asthma

History of smoking 
There are more questions than insurance companies may ask you regarding your asthma, and it is common amongst some of the best life insurance companies in Canada to ask you to fill out an additional asthma questionnaire.
By partnering with a broker who can access products from several different insurers, you can secure the most suitable policy at the most competitive rate. Brokers have the ability to explore the market on your behalf, compare various plans, and assess the likelihood of approval. Our team of experienced brokers at Protect Your Wealth have successfully assisted numerous individuals with asthma in obtaining life insurance, and they are ready to extend their expertise to you as well.
Best life insurance policies if you have asthma
There are different severities of asthma and there are also various types of life insurance that would be better depending on the severity of your asthma. Asthmatics can apply to get the same kinds of insurance as anyone: both term life insurance policies and whole life insurance policies are available for asthmatics. Most insurance companies will offer rates that will vary depending on both the severity of your asthma and if you want a fully underwritten policy or if you want a no medical exam policy.
Underwritten (Traditional) Policy
Fully underwritten policies require you to take a medical exam and get an evaluation from a certified physician. There are benefits to getting an evaluation because depending on your results, you can get a preferred rate and the cost of your life insurance might be the same as someone without asthma (or just slightly more). This will allow you to have a higher coverage amount and access to different life insurance policies which have great benefits and features.
No Medical Policies 
Asthmatics can also decide to purchase a no-medical exam policy, which can either be a simplified product or guaranteed product. This can benefit those who might not want to go through a medical evaluation. This would be ideal for those who have moderate to severe cases of asthma, but can limit the amount of coverage you can receive for your policy. For example, most simplified issue insurance policies will only provide you with $500,000 coverage and guaranteed issue insurance policies will offer you $50,000 or less in coverage. These policies typically cost more monthly and they have fewer coverage features than the fully underwritten policies. In either case, no medical life insurance is offered by most Canadian insurance companies.
How much does life insurance cost if you have asthma
The cost of getting life insurance if you have asthma can range depending on your choice of a no medical exam policy, or fully underwritten policy and also for term life insurance policies and whole life insurance policies. There are a number of different factors that can vary the cost of life insurance for asthmatics but what is most important to know about, is the rating. A rating is a percentage that a life insurance company will charge you for your life insurance policy. For example, a standard rating for life insurance will be for someone who has no health conditions, if you have severe asthma and you get a 200% rating, this means you will pay 2x more than someone with no health condition.  
This rating is based on the questions mentioned above about your asthma, and also on your medical exam or if you opt-out of the exam. Life insurance companies specifically base this percentage rating on the severity of your asthma. 
Here is a list of some life insurance companies in Canada that will rate you based on the severity of your asthma: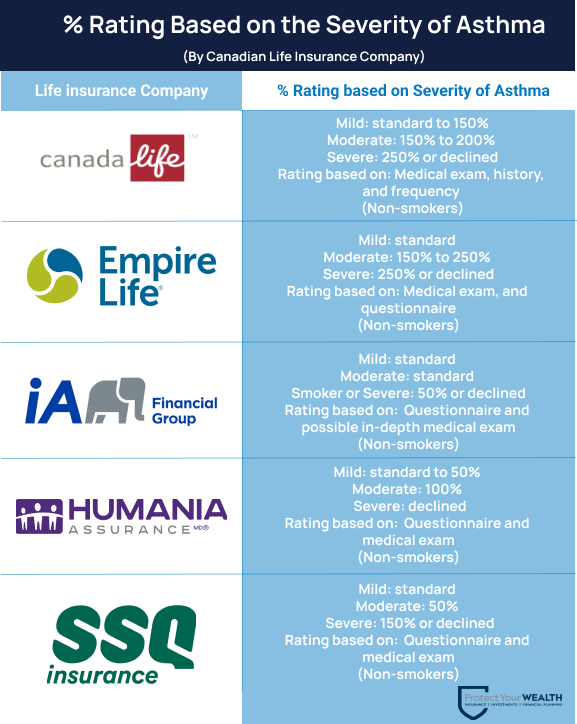 To increase your chances of securing favorable life insurance rates with asthma, actively manage your condition by following your treatment plan and regularly visiting your healthcare provider. Embrace a healthy lifestyle with regular exercise, a balanced diet, and no smoking. Shop around and compare quotes from different insurance providers to find the best coverage and rates for your situation, considering guaranteed issue or simplified issue policies if needed. Always be honest and thorough in your application, disclosing your asthma and providing accurate information to avoid future issues with your policy. Get a quote from Protect Your Wealth today and let an experienced insurance broker hand-select a policy that is perfect for you.
What happens if you get diagnosed with asthma while you're covered by a policy?
If you already have a life insurance policy and you are diagnosed with asthma, you don't need to worry. Canadian life insurance companies cannot revoke or change your life insurance coverage or policy once it is effective. This gives you peace of mind in the case of asthma diagnosis or other health conditions.
Frequently Asked Questions (FAQs) about Life Insurance and Asthma
Finding the right life insurance for you
If you're diagnosed and living with asthma you can still find affordable life insurance for your situation! Working with a life insurance advisor can help you create the perfect life insurance plan and package for your needs.
At Protect Your Wealth, we work with and compare policies and quotes from the best life insurance companies in Canada to create the best solution for you and your needs. We've been providing expert life insurance solutions since 2007, including no medical life insurance, term life insurance, and permanent life insurance, to build the best package to give you the protection you need.
Contact Protect Your Wealth or call us at 1-877-654-6119 to talk to an advisor today! We're proudly based out of Hamilton, and service clients anywhere in Ontario, Alberta, and British Columbia, including areas such as Ancaster, Burlington, Calgary, and Surrey.