Family Life Insurance in Canada
Family life insurance is a great way to protect yourself, and your loved ones.
11 Minute read
Originally published: Apr 19, 2022
Updated: May 15, 2023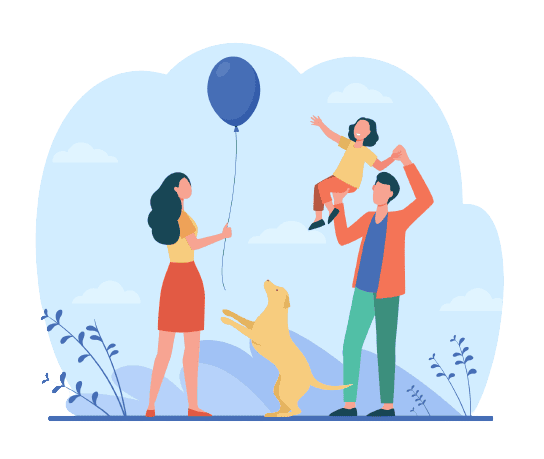 Family Life Insurance in Canada
Family life insurance is a great way to protect yourself, and your loved ones.
11 Minute read
Originally published: Apr 19, 2022
Updated: May 15, 2023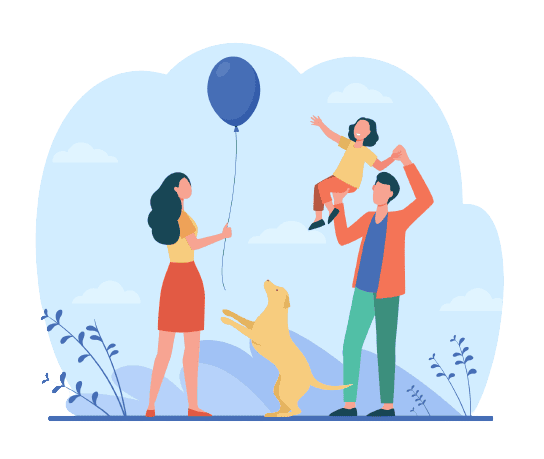 Protecting your family from any risks should be your number one priority. Getting family life insurance in Canada can give you the peace of mind to know that you and your loved ones are all protected in the case of unseen or unexpected circumstances. Whether it's paying off debts, funding education, or paying for mortgage expenses, life insurance can be a valuable tool for helping to protect your family's financial future.
There are great life insurance plans that are affordable like term life insurance, then there are unique permanent life insurance packages as well which have a cash value that you can borrow. There are also great critical illness insurance and disability insurances that are beneficial to cover you and your family in the case of you becoming ill or disabled. 
Is family life insurance for everyone? No, but if you want to maximize the protection your family has, and minimize the financial burden that can be caused by death, illness or disability, then family life insurance might be right for you. 
What is Family Life Insurance in Canada? 
Family life insurance in Canada is a combined package of different types of life insurance to cover a family for life. Typically, family life insurance is when you package a couple of riders with your term life or permanent life insurance coverage and plan. This doesn't need to just be just life insurance but can also be disability insurance, and critical illness insurance as well. These packages often include great benefits such as a death benefit which provides your beneficiaries with a lump-sum payment upon your death. You may choose a package that includes term insurance until retirement with additional child riders, as well as riders for critical illness and disability insurance. 
Disability insurance will provide you or your spouse with recurring payments in the event that you or your spouse become disabled. Depending on your disability insurance plan, these payments will cover your living expenses, medical expenses and recovery expenses. 
Critical illness insurance will cover you or your spouse in the event that one of you becomes critically ill. Similar to disability insurance, it will cover living expenses, and medical expenses, and will even supplement your income if you cannot work.
What is Term Life Insurance?
Term life insurance offers coverage for a fixed term (length of time). Terms can be as little as five years or as long as 100 years. For a 30-year-old, non-smoking male who lives in Ontario, premiums can start as low as $10 per month.
The main reason why people typically purchase term life insurance is that term life insurance is much more affordable than whole life insurance. Another great thing about term life insurance is that it covers you for a temporary time, making it ideal for those who are business owners, those who are paying off a mortgage, or those who have dependent children.
Term life insurance includes these benefits:
Financial security for you and your family in the event of a death or disability

Significantly more affordable compared to whole life insurance policies

Adaptable policy terms to best suit your needs

Once you've locked in your policy, your rates will never change for your term length

Guaranteed death benefits

Peace of mind knowing your family is protected for the period of the term with possibility to renew for a longer term
What is Permanent Life Insurance
Unlike term life insurance, permanent life insurance will last your whole life, that is why it is sometimes called whole life insurance. There are major differences between permanent life insurance compared to term life insurance. Some permanent life insurance policies like universal life insurance will give you the ability to invest with your insurance and there is a cash value to your permanent life insurance that you can borrow. Here are the differences between whole life insurance and universal life insurance:
Types of permanent life insurance
The two common types of permanent life insurance in Canada are whole life and universal life insurance. Here's a simplified breakdown of the differences.
Bundled premium which includes cost of insurance and investment.


Premium is level for life of the policy.

Premium can be for both insurance and investment or insurance alone.

Premium can either be level or increasing yearly.

Premium vs. Face

Amount of Insurance

Higher premium than comparable Universal Life

Lower premium than comparable Whole Life policy

Investment

Options Within Policy

No investment options available, completely managed by Whole Life fund managers.


Easier to manage with no need to monitor investment account.

Wide variety of investment options, however self managed.


Must select from Insurance companies investment funds.

Impact of Market

Conditions on Cash Values

Cash surrender value increases with dividends received from policy.


Cash surrender value cannot decrease no matter market conditions.

Account value may fluctuate with market conditions.


Investment returns completely dependent on policy portfolio.

Paid for by Automatic Premium Loan from cash surrender value, if available

Premium paid directly from account value, if available

Advantage of Monthly

vs. Annual Premium

Policy offers discount when paid annually upto 12%

No difference if paid monthly or annually
What is Critical Illness Insurance?
Critical Illness Insurance is a term insurance policy that will pay out a defined lump sum in the event you've been diagnosed with a serious illness. Some examples include stroke, heart attack, cancer or other types of illness. Your personalized contract will specify which events are covered by your policy, such as a stroke, heart attack, or cancer. Individual critical illness policies are typically available in Canada for 10 years, 20 years, 75 years, or 100 years. The shorter the term, similar to life insurance policies, the lower the premium. Some insurers also allow policyholders to lock in their premiums in order to avoid rate increases in the future.
The most popular critical illness insurance face amount is still $100,000. Read more to find out if critical illness insurance is right for you!
What is Disability Insurance?
If you rely on your paycheque, protecting your income stream is one of the best decisions you can make. Disability insurance pays a portion of your income if illness or injury leaves you unable to work. It can give you tax-free monthly income to help pay expenses if an illness or accident stops you from working. Being too safe is never a wrong thing to do, especially being that the average 30-year-old Canadian has a four times greater chance of becoming disabled than they do of dying before age 65. 
Children's life insurance
Getting child life insurance mainly depends on your personal situation and your child's situation. Many people who have children with illness tend to purchase critical illness insurance for their child or add a child life insurance rider to their own insurance policy. The reason that life insurance for your child might be helpful is for you to be able to have time to grieve, and to cover any funeral costs. Insuring your child is also a simple process as many life insurance companies will not require an in-depth medical exam and some offer guaranteed insurability for children.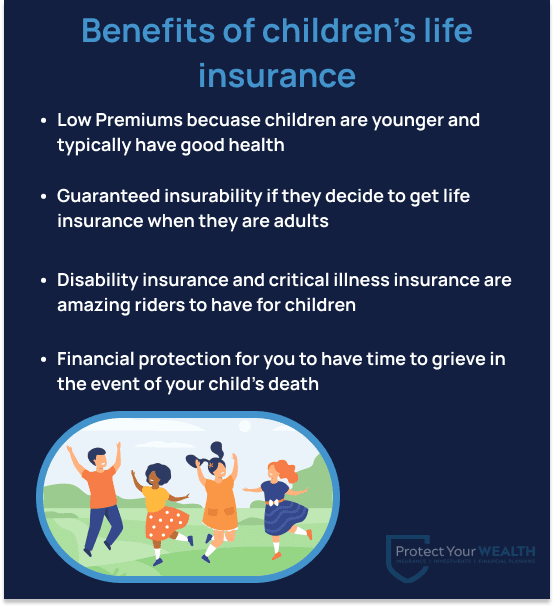 How long should family life insurance coverage be? 
Term life insurance is only good for a set period of time. You'll pay premiums for a set period of time (the term), after which your coverage will expire. You can also convert to a whole life policy or purchase a new term policy. Because you will be older, a new policy will be more expensive. There is no cash payout at the end of term insurance, which is why it is so cost-effective. When applying for family life insurance, you'll be asked to choose the length of your policy's term. Term lengths can vary but typically you will find terms for 10 years, 15 years, 20 years and even 25 years. Term life insurance, which expires when your family is no longer financially dependent on you, is the common option. When both of your children are no longer dependent on you, your mortgage is paid off or close to being paid off, and both you and your partner have sufficient retirement savings, this is an excellent example of this time.
How much is family life insurance? 
The cost of life insurance for your family will be heavily influenced by a number of factors. The following factors are taken into account by insurance companies when determining the cost of insuring you:
The amount of coverage you'll need to cover your family in the event of your or your spouse's death is the most important determinant of the cost of your family life insurance bundle. You should acquire coverage to pay off any debts you have, like your home loan, but also for additional expenses like your child's education. The amount of insurance required to cover all of these variables is determined by your financial habits and stage of life. Because the cost of life insurance can fluctuate depending on the person being insured and their unique life circumstances, it is best to get a quick quote or contact a licensed life insurance broker to find out what insurance is best for you. 
At Protect Your Wealth, we've been providing expert advice for all types of life insurance since 2007. As your trusted Life Insurance broker and financial planner, we work with you to create a plan for your family or business that covers and meets your needs. 
Contact Protect Your Wealth or call us at 1-877-654-6119 to talk to an advisor today. We're proudly based out of Hamilton, and serve clients anywhere in Ontario, Alberta, and British Columbia, including areas such as Toronto, Calgary, and Vancouver.
Frequently Asked Question (FAQs) about family life insurance